Welcome to our church in the Central Australian Desert! We are a small laid back bunch of people who are committed to sharing our faith in God, learning and helping people learn the truth of the bible and how to live like Jesus lived, and love our community in the Great Outback and beyond.
We meet at 6pm every Sunday in the shade of the blue church house between the Shire Council and Outback Store in Ti Tree town, where we sing gospel songs, learn some things from the bible, share communion together and pray together. There is also a great program for the kids where they can learn bible songs, dances, bible stories and memory verses, play games and activities and color in. Everybody is welcome!
About us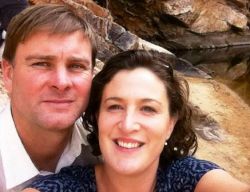 Hannes and Danielle have always had a passion to share their faith in Christ in meaningful ways within their community and have been involved in church life since childhood. In 2009, Hannes and Danielle travelled from their home town of country Victoria, for a short work trip to Ti Tree in Central Australia with their 2 small children. Within a matter of days both felt convicted of Gods heart for the area and they were compelled to start a small Christian home group on the farm. This quickly grew, along with their heart and determination to establish a Church base in the area. In time they completed their theological training, established the church, added 2 more beautiful children to the family and have been ministering ever since.
Holiday Programs, Gospel Easter Festival and Christmas Carols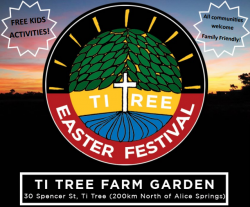 We hold an annual 2-4 day Gospel Easter Festival and Community Christmas Carols to celebrate these joyous seasons which are open for any communities to join in!
Some other school holidays we also partner with dynamic Missions Teams from around our nation to host a family fun holiday program. These usually run for four days and include a free community cooking night, a movie night, An epic color battle and gospel night and a special Sunday night gospel service with a fellowship dinner. You can find out what is happening this school holidays by reading our newsletter online on our Facebook page, "Ti Tree News."
Outback Kitchen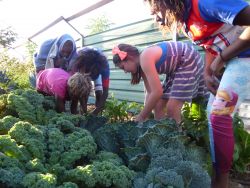 Come along to help us cook together, eat together and talk together!
This program was designed to draw all sectors of the community together while learning about food production, creating healthy lifestyles and having a nice night out and a healthy meal together.
First we all help out by planting new vegetables in the veggie patch and then harvesting some veggies to use for dinner that night. We invite a member of the community to share their favorite healthy recipe with us and all the kids get to have a hands on experience, helping out with the cooking process, while the adults all supervise. Then we all eat together, talk and relax before cleaning up together. All kids eat free and everybody is welcome!
Email Danielle to offer to share your favorite healthy recipe, host a cooking demonstration or to help supervise the kids as they cook-at no cost to you!
Ti Tree Farm Garden, 30 Spencer Street. See our Facebook page "Ti Tree News" for this months dates.
Ti Tree News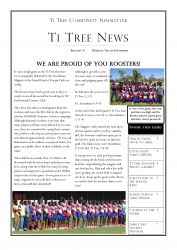 We maintain a community news group which aims to inform, inspire, include, invite and encourage members of our small community, and features everything from doctors visits to community events to birth announcements and hunting and gathering stories.
Feel free to follow and share our stories on our Facebook page, "Ti Tree News."